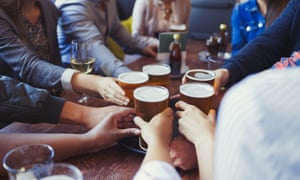 One in five people drink more than they should, according to the latest official statistics, with richer, older men most likely to consume so much alcohol that they are risking their health.
Overall, 21% of people aged 16 and over in England drink more than the 14 units a week recommended by the UK's four chief medical officers, a fall on the previous year.
Far more men (28%) than women (14%) drink more than this threshold, according to NHS Digital, in a detailed portrait of alcohol and the harm it causes.
Groups linked to the alcohol industry welcomed the figures showing that fewer people are drinking at risky levels. But alcohol campaigners said drinking was still causing problems and demanded action to curb consumption.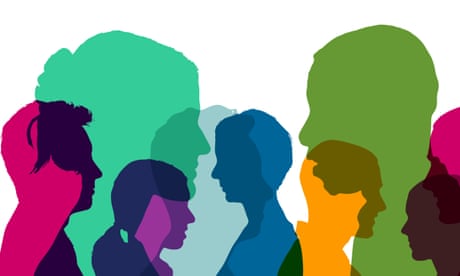 Get Society Weekly: our newsletter for public service professionals
Read more
"It is worrying that one in five adults are drinking at levels that increase their risk of health problems such as cancer, liver cirrhosis and heart disease. This puts a strain on our NHS and reduces our economic productivity, making us an unhealthy nation all round," said Katherine Severi, chief executive of the Institute of Alcohol Studies thinktank.Advertisement
NHS Digital's report, which used 2017 data from England, showed that adults from wealthier backgrounds (27%) were almost twice as likely as those from poorer homes (15%) to drink more than the 14-unit weekly ceiling.
"These data demolish the stereotypes linked to alcohol problems, which aren't confined to a small minority of so-called irresponsible drinkers. Affluent, well-educated groups are drinking the most.
"It's vital we move away from such myths. Action on affordability, availability and promotion of alcohol is proven to reduce harm, save lives and bolster public finances," added Severi.
The figures confirm that the proportion of people drinking more than the advised amount, which has been falling for some years, has dropped again. That has fallen by 6% among men and 4% among women since 2011.
John Timothy, chief executive of the Portman Group, an alcohol industry lobby group, said: "These figures once again show that the vast majority of people in England are drinking at or within very low risk levels. This is a positive trend and one that demonstrates increased awareness of the benefits of moderation and responsible drinking."
Those aged 55 to 64 are the likeliest to drink more than 14 units a week, with 36% of men and 20% of women doing that. One in ten (11%) adults drink at least five times a week: 14% of men and 9% of women.
Despite the downward trend in drinking, alcohol-related deaths are at their highest since records began in 2001: 5,843 adults in 2017, a 6% rise on the previous year. Four in five had alcoholic liver disease. and others had cancers linked to alcohol consumption, such as cancer of the mouth and liver.
The number of people who ended up in hospital due to drink also rose sharply last year, by 100,000 to 1.2 million – one in every 14 inpatients. The commonest causes of such admissions, in which alcohol was a primary or secondary diagnosis, included cancer, unintentional injuries and heart attacks and strokes. Of those, 83% were over 45 and two-thirds were men.
The Royal College of Psychiatrists voiced alarm at another fall in the number of people who were treated as an inpatient for alcohol addiction – just 76,000 in 2017-18, 6% down year on year.
Dr Tony Rao, chair of the college's addictions faculty, said: "The £700m cut from public health budgets since 2014 continues to have a devastating impact on the lives of people struggling with alcohol use disorders.
"Alcohol harm to older people remains a growing concern, with baby boomers having the highest rates of alcohol-related deaths and alcohol-related admissions."
Since you're here…
… we have a small favour to ask. We have a core mission which is driving the work that we do. It's about ensuring our journalism is kept open and accessible to readers all around the world.
More people are reading and supporting our independent, investigative reporting than ever before. And unlike many news organisations, we have chosen an approach that allows us to keep our journalism accessible to all, regardless of where they live or what they can afford.
Readers' support powers our work, giving our reporting impact and safeguarding our essential editorial independence. This means the responsibility of protecting independent journalism is shared, enabling us all to feel empowered to bring about real change in the world. Your support gives Guardian journalists the time, space and freedom to report with tenacity and rigor, to shed light where others won't. It emboldens us to challenge authority and question the status quo. And by keeping all of our journalism free and open to all, we can foster inclusivity, diversity, make space for debate, inspire conversation – so more people, across the world, have access to accurate information with integrity at its heart.
The Guardian is editorially independent, meaning we set our own agenda. Our journalism is free from commercial bias and not influenced by billionaire owners, politicians or shareholders. No one edits our editor. No one steers our opinion. This is important as it enables us to give a voice to those less heard, challenge the powerful and hold them to account. It's what makes us different to so many others in the media, at a time when factual, honest reporting is critical.