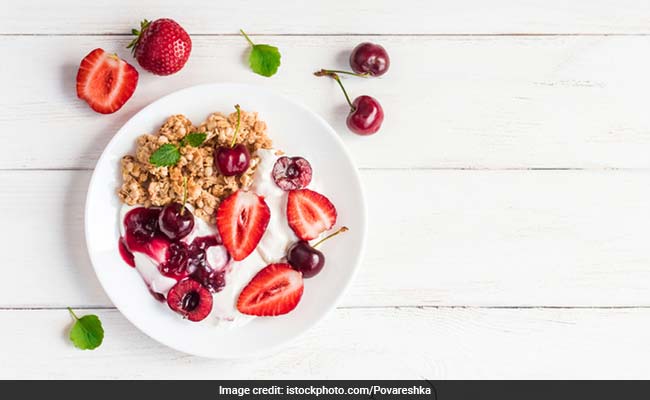 Somewhere during the late afternoon lull, a strong craving strikes and all you hope for is someone at work to be bringing birthday cake to satiate it. Even if you've been eating healthy and clean all day, if not controlled properly, it is these afternoon cravings that will cause you to overload on sugar and salt and feel extremely guilty later. The trick to curbing them is with healthy snacks. Keep them handy in a tiffin and when the clock strikes three, you can proudly satiate your cravings in the healthiest way possible.
1. Hummus And Vegetables
Is there anyone who doesn't love hummus? Its chickpea base is rich in protein which also aids in controlling blood sugar and cholesterol. When paired with raw or steamed vegetables cut into sticks, it will make a filling snack that's extremely healthy.
2. Protein Shake
You may not be able to bite into this snack, but it is especially good if you're on the move – all you'll need to do is carry it around in a flash and sip. Simply combine one banana with quarter cup yogurt and quarter cup milk in a blender. Mix until smooth and top with honey to taste, cinnamon powder and chia seeds. It will give you plenty of energy and keep you full till your next meal.
3. Dates, Peanut Butter, Sea Salt
At your work desk, keep these three ingredients by your side. The next time you get a craving, take a date, top with peanut butter, sprinkle sea salt and pop in your mouth. This perfect combination satiates sweet and salty craving while being full of healthy fats.
4. Yogurt With Almonds And Fruit
Carry a pack of plain yogurt with your and when it's time to eat, top it with chopped seasonal fruit and almonds. You won't get any unnecessary sugar from flavouring with this yogurt and both, almonds and fruits are nature's finest nutritional gifts with fats and fibre.
5. Sliced Tomato With Olive Oil And Cheese
Over a few sliced tomatoes, drizzle olive oil and a bit of your favourite feta, blue or cheddar cheese. Simple but surprisingly tasty, this snack is filled with good fats, lycopene, calcium and protein. You might just find yourself going back to this frequently.
6. Baked Banana Chips
If you want to do nothing else but break into a packet of chips by afternoon, make a healthier version for yourself that's packed with potassium. Slice bananas finely, place them on a baking pan and brush them with oil. Bake for 10 minutes at 180 degrees and when done, garnish with salt and pepper. There, your very own healthy homemade chips to snack on.