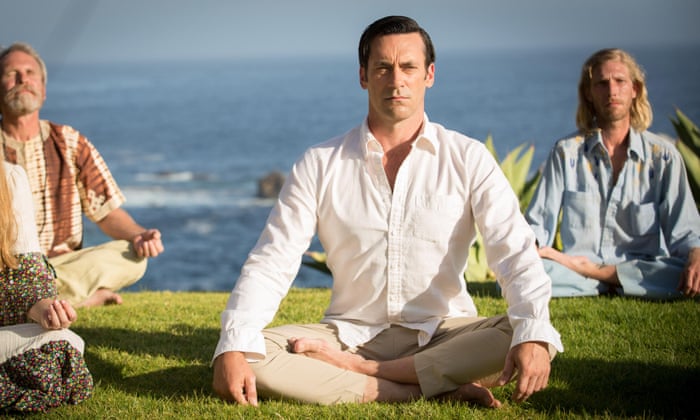 Anne-Marie Newland's students wouldn't dare use their mobile phones in her yoga class, let alone take a surreptitious snap of their sphinx pose. However Newland, founder of the Sun Power Yoga School, is reluctant to criticise the growing presence of yoga selfies on the internet. The Insta yoga trend now extends far beyond the usual celebrities – searching #yoga every damn day on Instagram generates more than 4m posts, and a nameless model known only as nude_yoga girl attracted 80,000 followers after joining the site five weeks ago (though that may have been the "nude" rather than the "yoga"). But how should we view this eruption of self-promotion when yoga is founded upon principles of self-reflection?
Newland, who is based in Leicester, advises us to consider the reason for each upload. "The difficulty is seeing past all these fashionistas who are jumping on the bandwagon. If the intent is to be trendy, to big yourself up, to show how you've matched your nail colour to your mat, then you've missed the point of yoga," she says.
A streak of exhibitionism and a need to prove something can be the driving force for many yoga-grammers. Yoga is underpinned by the notion that a healthy mind leads to a healthy body. As a result it can attract people who struggle with body image. Newland, who had anorexia in the past, knows the dangers of self-imaging. If one of her students has an eating disorder, she asks them to do the class with their eyes closed so they cannot look at themselves or others.
But the redemptive power of Instayoga should not be ignored. It can be a way to share a passion, motivate others and illustrate the positive difference yoga has made. Yoga has helped millions of people deal with physical and mental struggles, and uploading an image can be a way to celebrate such triumph. "These people have found something that actually works, that isn't a pill or a bottle and doesn't cost money. If putting that on social media empowers them and gives them strength, we have no right to condemn it," says Newland.
Before training to become a yoga teacher in 1984, she wrote songs for Chappell Music and toured as a rock drummer with the likes of Toyah Willcox and the Clash. "I made a huge turnabout and yoga ended up being my path out," she explains.
Instead of spending hours scrolling Instagram, Newland recommends taking the time to find the right teacher. She has trained teachers in more than 30 countries and says that a good instructor will reveal the depths of yoga to students and adapt postures for every body shape and ability. "Be honest about why you like things and why you don't. If you don't like the fact that a teacher speaks about the spiritual aspects, or you don't like all the breathing, you're not ready for the whole of yoga," she says.
Her recommendation is to keep an open mind when choosing a style – she practised many types before setting up Sun Power Yoga, which combines elements of hatha, sivananda and ashtanga vinyasa. With more than a million YouTube yoga tutorials to choose from, it has become easy to try out new styles, and sessions can be carried out anywhere from bedrooms to rooftop gardens.
"These tutorials are filling a gap for people who can't get to classes," she points out. "We're in a whole new era of yoga, and it's exciting. People are doing it not because they've seen an Instagram post but because it works. Yoga is 8,000 years old, but it's more relevant than ever."